About the book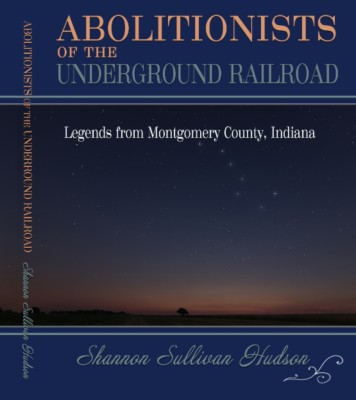 Montgomery County was at one time a thriving, integrated, socially and politically active town.  Many factors allowed residen
​
ts to loosely organize into routes and safe-houses assisting freedom seekers.  This book tells our county' s story; the legends of this incredible time, the people, and the stories told about them.
​Ultimately oral legend is transformed into oral history. 

"We are all members of the family of mankind, not different races. Your difference of skin color does not add to or cancel out the more important qualities of your personality."

-Dr. Bryan E. Walls, T​he Road That Led to Somewhere
The book can be purchased at the Carnegie Museum, (765) 362-4618, Lane Place  (765) 362-3416 or the Rotary Jail, (765) 362-5222, all in Crawfordsville. 


The book can also be purchaed through Amazon.com at by searching Shannon Sullivan Hudson.  It is available in both soft cover and Kindle ebook.